MSI Optix MAG27C 27" Widescreen Curved LED Backlight Gaming Monitor
show / hide sidebar
MSI Optix MAG27C 27" Widescreen Curved LED Backlight Gaming Monitor
Product Description
144HZ Refresh rate + 1MS Response time
MSI gaming monitors are equipped with a 144hz refresh rate + 1ms response time VA LED panel which has the most benefit in fast moving game genres such as first person shooters, fighters, racing sims, real-time strategy, and sports. These type of games require very fast and precise movements, which an ultra-high refresh rate and fast response time monitor will put you ahead of your competition.
Curved for your viewing pleasure
MSI gaming monitors use a curved display panel that has a curvature rate of 1800R, which is the most comfortable and suitable for a wide range of applications from general computing to gaming. Curved panels also help with gameplay immersion, making you feel more connected to the entire experience.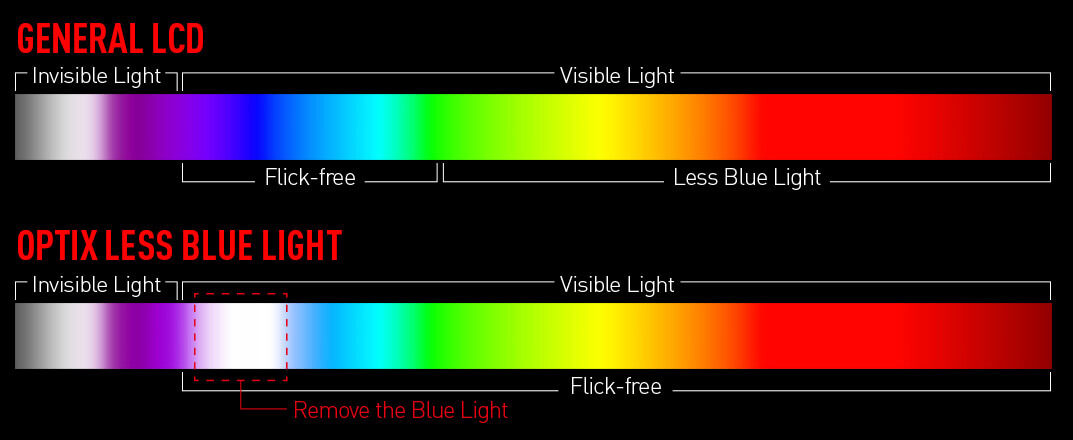 Less Blue Light
MSI's Less Blue Light technology decreases the pressure on your eyes which is normally cause by emitting blue light.
FROM EDGE TO EDGE

With a super narrow bezel, enjoy the best immersion possible in the latest games with a multi-monitor 180 degree setup. Enjoy better continuity between screens while playing games, working, or general computing.

SMOOTH OUT YOUR GAMEPLAY WITH ADAPTIVE SYNC

MSI Gaming monitors are built with Adaptive Sync technology to create the smoothest visuals for your gameplay. To do this, Adaptive Sync will sync your monitors refresh rate to your AMD GPU, which helps to eliminate screen tearing or stuttering. Enjoy the game the way it was meant to be enjoyed with ultra-smooth, lag-free visuals.

TAILORED FOR THE PERFECT FIT

The MSI Optix Gaming monitor is built to enhance your gaming sessions to be as comfortable as possible. With adjustments to tilt, swivel, and height, easily change the position of the gaming monitor for maximum ergonomics and optimum viewing experience.
Returns Policy
All products sold by aaawave.com are brand new and carry the manufacturer's full warranty. All products advertised as BULK or OEM are brand new and carry the manufacturer's full warranty.
*Note: "BULK" and "OEM" items do not come in a retail type of packaging, do not include hardware, accessories, cables,software, or literature. Unless otherwise noted.
All products are shipped to the customer the exact same way that we receive them from the manufacturer. We are NOT responsible for physical damage or misuse of the product, damage or misuse of the product will automatically void the manufacturer warranty.
*Note: aaawave.com does not accept returns for refunds or exchanges of the following items: Open Software, Downloadable Software Products (Digital Downloads), Software Product Keycards, Online Subscription Software, and items manufactured by LG, Gigabyte, and Fortinet.
Schedule and Time
aaawave.com offers a 30 day return/exchange policy, unless otherwise noted. The return/exchange policy begins on the customers purchase date. No returns or exchanges will be accepted after 30 days. All refunds will be made back to the customer's original form of payment within 7 business days of receiving the return merchandise. Return Merchandise Authorization number (RMA) are valid for only 10 business days. Packages must be received by us within 10 business days after the RMA number has been issued. Packages received after 10 business days will not be accepted and the warranty period will be considered voided and cancelled. RMA processing time is 5-7 business days once the package has been received.

Extra Charge
There is a restocking fee of 15% on all returns for refund. We charge this 15% restocking fee for all returns for refund to encourage customers to purchase products they intend to keep. We offer RMA replacement without any restocking fee to customers who have received a defective product. Shipping costs is non-refundable. Product exchanges can be accepted for defective items, the same exact item only. Product returns can be accepted for defective items only. Product returns for non-defective items will incur a 15% re-stocking fee, deducted from the refund amount.

Customer's Duty
aaawave.com does NOT offer "Advanced Replacement" for the exchange of defective merchandise. aaawave.com does NOT pay the return shipping costs for defective merchandise. We are NOT responsible for product defects, because we do not manufacture the products we sell. aaawave.com will pay for shipping "Back to the customer" for exchange of defective items. All returns and exchanges must be accompanied with a Return Merchandise Authorization number (RMA number). Please contact us for a RMA number prior to sending your package. aaawave.com will NOT accept packages without prior authorization and a RMA number. All packages being shipped to aaawave.com must have a valid tracking number that is with a major courier such as UPS, FEDEX, or USPS.
Other Details
DIMENSIONS:
50 x 60 x 70 cm
MONITOR BRIGHTNESS:
250 CD
MONITOR REFRESH RATE:
144Hz
MONITOR RESOLUTION:
FHD (1920 x 1080)
MONITOR RESPONSE TIME:
1MS (MPRT)
MONITOR SERIES:
OPTIX Series
MONITOR SIGNAL INPUT:
1x DP , 1x HDMI , 1x DVI
MONITOR SYNC FEATURE:
N/A
MONITOR WARRANTY:
3 Years Warranty
Other Details
DIMENSIONS:
50 x 60 x 70 cm
MONITOR BRIGHTNESS:
250 CD
MONITOR REFRESH RATE:
144Hz
MONITOR RESOLUTION:
FHD (1920 x 1080)
MONITOR RESPONSE TIME:
1MS (MPRT)
MONITOR SERIES:
OPTIX Series
MONITOR SIGNAL INPUT:
1x DP , 1x HDMI , 1x DVI
MONITOR SYNC FEATURE:
N/A
MONITOR WARRANTY:
3 Years Warranty
Customers also viewed