(STOP CARRY) HGST 0J22423 - 1TB Travelstar 2.5" Internal Hard Disk Drive
show / hide sidebar
Product Description
Product Overviews
Travelstar 7K1000 is the industry's only seventh-generation 7200 RPM mobile hard drive and ideally suited for notebook PC upgrades and portable, high-capacity personal storage products. At 500GB/platter, this 2.5-inch hard drive offers up to 1TB of capacity and leverages Advanced Format, which increased the physical sector size from 512 bytes to 4,096 (4K) bytes to improve drive capacities and error correction capabilities. The Travelstar 7K1000 is the industry's first high-performance 1TB 2.5-inch HDD with a 6Gb/s SATA interface and delivers the highest mobile HDD performance in PCMark Vantage benchmark testing.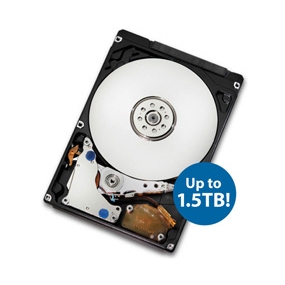 Power efficient for longer notebook life and rugged design for outstanding shock tolerance.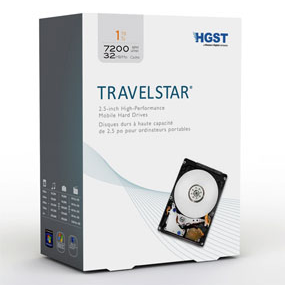 The HGST IDK Travelstar mobile drives are available in a variety ofRPMs and capacities.
2.5-Inch High Performance Mobile Hard Drive

HGST Travelstar 2.5-inch portable laptop SATA internal drives provide best-of-class operating shock and outstanding power management for sturdy unplugged notebook performance. Designed to support the high-performance needs of multi-tasking, mobile users with a life on the go, the Travelstar hard drive offers speed without sacrificing battery life, capacity or audio quality. Travelstar hard drives are packed with patented technology that provides great performance more reliably, with quiet and eco-friendly operation. Travelstar drives are available in capacities up to 1.5TB, and the Travelstar 1TB is the only 7200RPM 2.5" hard drive available in the market. Use the super-slim 7mm hard drive for upgrading your ultra-thin notebooks, or the standard 9.5mm for a variety of different high-performance storage needs.
Power Efficient, Rugged Design
HGST mobile hard drives are designed to the highest quality standards and contain field-proven components. HGST provides worldwide technical support and integration services to enable global customers to bring their products to market quickly.
Performance Choice
Choose between 7200 or 5400RPM models for the right balance of performance and affordability for your notebook or laptop. 5400RPM models come in 1.5TB, 1TB and 500GB capacities, while 7200RPM come in 1TB and 500GB capacities. All models feature SATA III 6Gbps compatibility and performance, as well as Advanced Format and 512-byte emulation (512e). The IDK Travelstar hard drive is compatible with both Windows and Mac laptops. Windows users will need a computer system running Windows 8/7/Vista/XP and an available SATA port. Macintosh users will need a Mac computer running OS 10.3 or newer with an available SATA port.
Upgrade Your Gaming Console

Now, upgrade your PS4 with the HGST Travelstar 2.5" hard drive packed with patented technology for high performance and reliability. Get more memory for your games, apps, and downloadable content. The HGST patent technology performance hard drives have a 3-year limited warranty to back them. (Microsoft and Playstation are trademarks of Microsoft Corporation. Microsoft is not a sponsor of this promotion.

Product Specification
| | |
| --- | --- |
| Detail | 2.5-inch portable laptop SATA hard drive |
| Capacities | 7200RPM available in 1TB and 500GB capacities |
| Capacities | 5400RPM available in 1.5TB, 1TB and 500GB capacities |
| Interface | 6Gbps SATA interface |
| Award | Award-winning performance |
Returns Policy
All products sold by aaawave.com are brand new and carry the manufacturer's full warranty. All products advertised as BULK or OEM are brand new and carry the manufacturer's full warranty.
*Note: "BULK" and "OEM" items do not come in a retail type of packaging, do not include hardware, accessories, cables,software, or literature. Unless otherwise noted.
All products are shipped to the customer the exact same way that we receive them from the manufacturer. We are NOT responsible for physical damage or misuse of the product, damage or misuse of the product will automatically void the manufacturer warranty.
*Note: aaawave.com does not accept returns for refunds or exchanges of the following items: Open Software, Downloadable Software Products (Digital Downloads), Software Product Keycards, Online Subscription Software, and items manufactured by LG, Gigabyte, and Fortinet.
Schedule and Time
aaawave.com offers a 30 day return/exchange policy, unless otherwise noted. The return/exchange policy begins on the customers purchase date. No returns or exchanges will be accepted after 30 days. All refunds will be made back to the customer's original form of payment within 7 business days of receiving the return merchandise. Return Merchandise Authorization number (RMA) are valid for only 10 business days. Packages must be received by us within 10 business days after the RMA number has been issued. Packages received after 10 business days will not be accepted and the warranty period will be considered voided and cancelled. RMA processing time is 5-7 business days once the package has been received.

Extra Charge
There is a restocking fee of 15% on all returns for refund. We charge this 15% restocking fee for all returns for refund to encourage customers to purchase products they intend to keep. We offer RMA replacement without any restocking fee to customers who have received a defective product. Shipping costs is non-refundable. Product exchanges can be accepted for defective items, the same exact item only. Product returns can be accepted for defective items only. Product returns for non-defective items will incur a 15% re-stocking fee, deducted from the refund amount.

Customer's Duty
aaawave.com does NOT offer "Advanced Replacement" for the exchange of defective merchandise. aaawave.com does NOT pay the return shipping costs for defective merchandise. We are NOT responsible for product defects, because we do not manufacture the products we sell. aaawave.com will pay for shipping "Back to the customer" for exchange of defective items. All returns and exchanges must be accompanied with a Return Merchandise Authorization number (RMA number). Please contact us for a RMA number prior to sending your package. aaawave.com will NOT accept packages without prior authorization and a RMA number. All packages being shipped to aaawave.com must have a valid tracking number that is with a major courier such as UPS, FEDEX, or USPS.