HGST 0S04005 Deskstar NAS 0S04005 3.5 Inch 4TB SATAlll 7200 RPM 128MB Cache HDD
show / hide sidebar
Product Description
Product Overviews
With a great blend of reliability and performance, the HGST Deskstar NAS 7200RPM 3.5" HDD is an ideal choice for consumer and commercial desktop NAS system. It operates over SATA III host interface, transfers data 20% faster than 5400RPM, and delivers seek time less than 12ms. The innovative rotational vibration sensor anticipates disturbances and counteracts them in multi-drive environments - maintain high input/output performance and achieve long MTBF. Trust your photos, videos, music and other files to the one who knows the value of your precious data.
Award-winning Performance - 7200 RPM, 128MB cache buffer and 6Gb/s SATA interface for fast data access

Colossal Capacity - Up to 8TB for room to grow

Outstanding Reliability - 1M hrs MTBF, Rotational Vibration Sensor, 24/7 availability
Rotational Vibration Safeguard (RVS)
One of the greatest hindrances to hard disk performance is vibration. Like a needle on a record, the disk drive's head must try to follow narrow data tracks in order to read (or write) information. These problems are particularly acute in multi-drive systems, because drives tend to be installed alongside each other, in arrays. The vibration caused by the rotation and seek activities of nearby drives can affect the whole array, progressively disturbing the operation of each drive in the system. The drop in performance can be significant. That's why the Deskstar NAS hard drive has an advance Rotational Vibration Safeguard (RVS) that anticipates disturbances and counteracts them, maximizing performance in the most arduous conditions. If the RVS sensors feel a vibration rippling through the drive, they send a signal to the actuator that controls the head's position. The actuator then compensates for the disturbance, counteracting it with an equal and opposite force. In this way, the head is able to 'ride' the vibration and stay on track, helping to prevent data loss or corruption.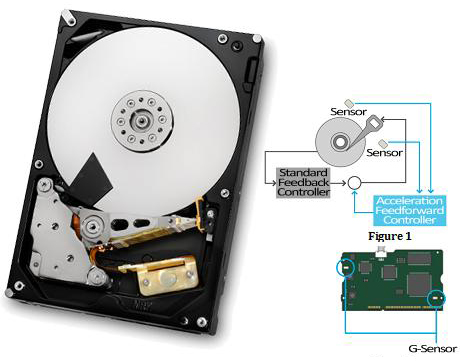 Product Sepcification
| | |
| --- | --- |
| Interface | SATA 6.0Gb/s |
| Capacity | 4TB |
| RPM | 7200 RPM |
| Cache | 128MB |
Returns Policy
All products sold by aaawave.com are brand new and carry the manufacturer's full warranty. All products advertised as BULK or OEM are brand new and carry the manufacturer's full warranty.
*Note: "BULK" and "OEM" items do not come in a retail type of packaging, do not include hardware, accessories, cables,software, or literature. Unless otherwise noted.
All products are shipped to the customer the exact same way that we receive them from the manufacturer. We are NOT responsible for physical damage or misuse of the product, damage or misuse of the product will automatically void the manufacturer warranty.
*Note: aaawave.com does not accept returns for refunds or exchanges of the following items: Open Software, Downloadable Software Products (Digital Downloads), Software Product Keycards, Online Subscription Software, and items manufactured by LG, Gigabyte, and Fortinet.
Schedule and Time
aaawave.com offers a 30 day return/exchange policy, unless otherwise noted. The return/exchange policy begins on the customers purchase date. No returns or exchanges will be accepted after 30 days. All refunds will be made back to the customer's original form of payment within 7 business days of receiving the return merchandise. Return Merchandise Authorization number (RMA) are valid for only 10 business days. Packages must be received by us within 10 business days after the RMA number has been issued. Packages received after 10 business days will not be accepted and the warranty period will be considered voided and cancelled. RMA processing time is 5-7 business days once the package has been received.

Extra Charge
There is a restocking fee of 15% on all returns for refund. We charge this 15% restocking fee for all returns for refund to encourage customers to purchase products they intend to keep. We offer RMA replacement without any restocking fee to customers who have received a defective product. Shipping costs is non-refundable. Product exchanges can be accepted for defective items, the same exact item only. Product returns can be accepted for defective items only. Product returns for non-defective items will incur a 15% re-stocking fee, deducted from the refund amount.

Customer's Duty
aaawave.com does NOT offer "Advanced Replacement" for the exchange of defective merchandise. aaawave.com does NOT pay the return shipping costs for defective merchandise. We are NOT responsible for product defects, because we do not manufacture the products we sell. aaawave.com will pay for shipping "Back to the customer" for exchange of defective items. All returns and exchanges must be accompanied with a Return Merchandise Authorization number (RMA number). Please contact us for a RMA number prior to sending your package. aaawave.com will NOT accept packages without prior authorization and a RMA number. All packages being shipped to aaawave.com must have a valid tracking number that is with a major courier such as UPS, FEDEX, or USPS.
Customers also viewed