Gigabyte AERO 15-X9-RT5P 15.6" 144Hz FHD IPS i7-8750H RTX 2070 GDDR6 8GB DDR4 SSD
show / hide sidebar
Gigabyte AERO 15-X9-RT5P 15.6" 144Hz FHD IPS i7-8750H RTX 2070 GDDR6 8GB DDR4 SSD
Product Description
Features :
15.6" Thin Bezel LG FHD 144Hz 1920x1080 IPS Anti-Glare display LCD

Intel Core i7-8750H (2.2Ghz-4.1GHz) | NVIDIA GeForce RTX 2070 GDDR6 8GB Supports NVIDIA Optimus technology

16GB DDR4 2666MHz Memory | M.2 NVMe PCIe 1TB SSD | Windows 10 Pro

94.24Wh 10hrs Long battery life | GIGABYTE Fusion per Key RGB Keyboard | Microsoft Azure AI | all Intel inside

14 x 9.8 x 0.74 inch | 4.49 Ibis | 1 Year Global warranty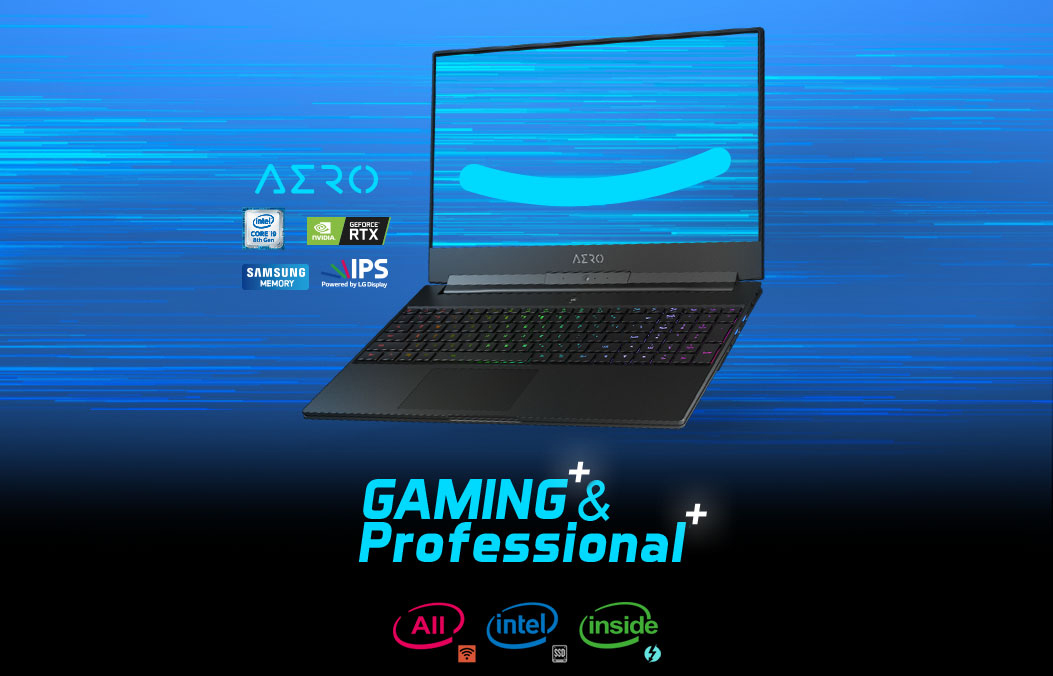 GIGABYTE continues leading the industry by collaborating with Intel®, the world-renowned tech giant. This time round, the AORUS brand uses a combination of high-performance parts from Intel, called the All Intel Inside technology. Expect a brand-new multitasking-expert 6-core Intel CPU, durable and ultra-fast 760p SSD and Intel's based killer Wi-Fi for smarter broadband connectivity. All these high-performance parts work together seamlessly, so you can concentrate on the more important tasks at hand.

When the world is hyped about AI, you as an individual should ask and think what AI can really do for you. GIGABYTE went a step further by adapting the perspective and experiences of our users and have teamed up with Microsoft Azure to bring you the world's first AI laptop—the AORUS 15. User preference data passes through the Microsoft Azure Machine Learning platform in order to dynamically determine the best CPU and GPU wattage setting for optimal gaming performance and shortest possible media processing times. Users will experience absolute smoothness without hassle whether it's for gaming or content creation.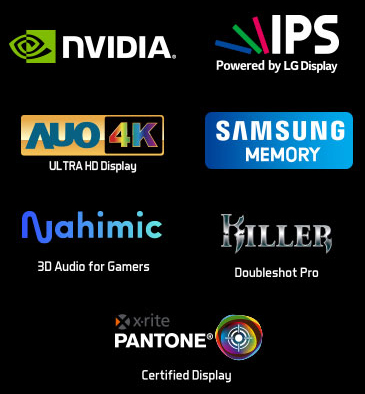 The World's First 5mm-Thin Bezel Display with X-Rite Pantone Certification
Every 5mm-thin bezel panel fitted on the AERO gets calibrated and certified with the world-renowned X-Rite™ Pantone® calibration technology before it leaves the factory, giving you perfect color accuracy and a wider color spectrum the second you turn on the AERO.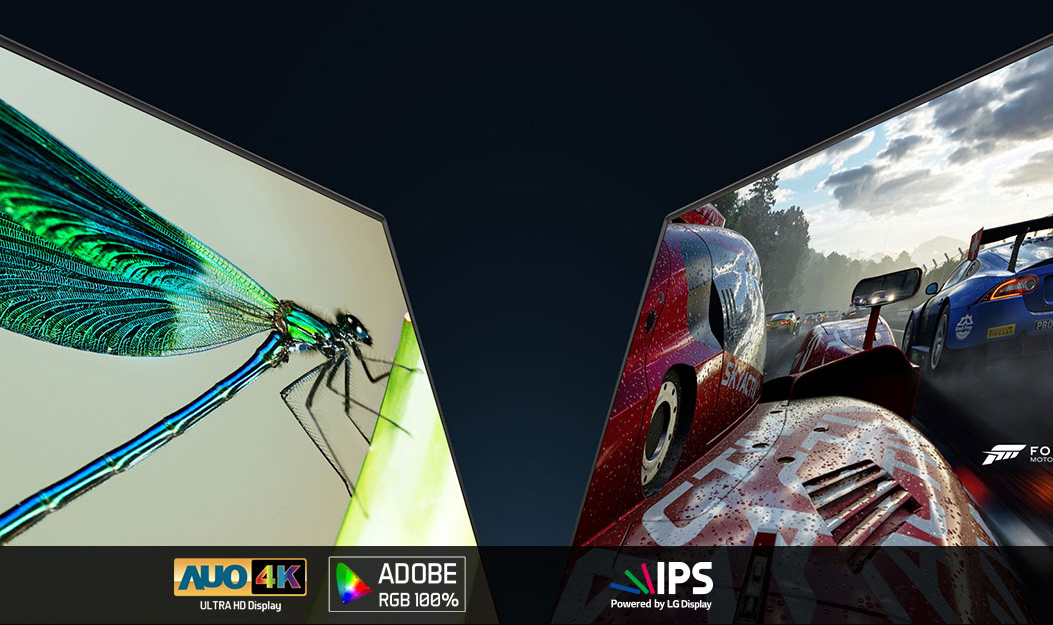 Extreme Smoothness | LG IPS 144Hz Display
The AERO's display is fitted with a 144Hz refresh rate that creates buttery-smooth images without jitter or lag. Furthermore, effectively decreasing ghosting and image tear for both work and play.
4K UHD Display | Take in True Details That the World Has to Offer
The 4K UHD IPS display offers the best resolution density in its class and also comes at 100% Adobe RGB color gamut that brings a wider and more accurate selection of colors than that of a traditional sRGB gamut. Take advantage of the efficiency and vibrant images for every occasion.
GEFORCE RTX™ GRAPHICS REINVENTED
NVIDIA GeForce RTX delivers the ultimate laptop gaming experience. Powered by the new NVIDIA Turing GPU architecture and the revolutionary RTX platform, RTX graphics cards bring together real-time ray tracing, artificial intelligence and programmable shading. This is a whole new way to experience games.

Ray Tracing
Ray tracing is the holy grail of gaming graphics, simulating the physical behavior of light to bring real-time, cinematic-quality rendering to even the most visually-intense games like never before.
DLSS
Deep Learning Super Sampling (DLSS) is the new RTX technology that uses the power of deep learning and AI to train the GPU to render crisp images, while running up to 2X faster than previous-generation GPUs using conventional anti-aliasing techniques.
Intel Core i9 | Experience the Extreme
Non-stop creativity is achieved through the use of a smooth and powerful processor. For the first time, the AERO has upgraded to a brand-new 6-core high-performance Intel® Core™ i9-8950HK CPU. Express your creativity in the smoothest way possible.
Samsung DDR4 Memory | Quality Module Comes Standard
GIGABYTE has chosen to equip the AERO with high-grade, high-performance Samsung DDR4 memory that decreases battery consumption and provides high-speed transfers plus overall memory quality. Furthermore, the AERO exceeds the limitation by supporting up to two DDR4 memory slots.
Intel 760p SSD | World-Class Quality and Speed
Speed, speed and speed. The intel 760p SSD is what takes transfer speed to the next level, with up to 3,200MB/s read speed that lets you work without any long waiting times. Furthermore, the AERO is designed to take two of these speedy SSDs to increase the total storage space to meet your needs.
Killer DoubleShot™ Pro | The Most Powerful Bandwidth Controller
The Killer Wireless-AC 1550 with Killer™ DoubleShot™ Pro technology can be automated to provide and prioritize adequate bandwidth to needed applications. Experience effective online multitasking without the need to worry about bandwidth.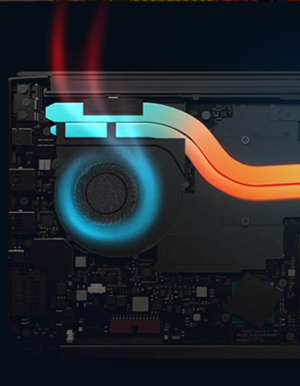 Supra Cool | Fit for a Light and Thin Laptop
Powerful performance needs effective cooling technology. The AERO comes with two uniquely-designed fans and a built-in cooling system that adapts both CPU and GPU, effectively dissipating the system's heat. This results in keeping this laptop's parts working longer and at constant peak performance.
CNC Crafted | Precisely Refined and Durable
GIGABYTE AERO uses a whole block of aluminum to produce a refined laptop lid that's striking to the eye, solid to the touch and ultra-durable for daily use. The chassis is further made from compressed aluminum construction to create a strong yet light body. All this measures and weighs in at just 1.8cm and 2.0kg.
Powerful 94Wh Battery, Up to 10 hours of Use
Battery consumption may differ by different usage environments, but this laptop houses next-generation battery life to fit your modern needs.

RGB Fusion | Fully Anti-Ghosting Per-Key RGB Backlit
Every key found on the AERO keyboard has full, per-key 16.77-million color RGB backlighting plus anti-ghosting. In addition, a full customizable per-key macro feature records your input commands (keyboard and mouse) to achieve an array of unique combo functions. With both RGB lighting and macro keys, the AERO keyboard turns into a multi-functional tool that definitely benefits you, even in the dark.
Windows Precision Touchpad for Precise Control
The AERO has upgraded to fully support the Windows precision touchpad. Enjoy advanced functionality through registered, multiple-touch inputs for more functionality and precision on the go.
Returns Policy
All products sold by aaawave.com are brand new and carry the manufacturer's full warranty. All products advertised as BULK or OEM are brand new and carry the manufacturer's full warranty.
*Note: "BULK" and "OEM" items do not come in a retail type of packaging, do not include hardware, accessories, cables,software, or literature. Unless otherwise noted.
All products are shipped to the customer the exact same way that we receive them from the manufacturer. We are NOT responsible for physical damage or misuse of the product, damage or misuse of the product will automatically void the manufacturer warranty.
*Note: aaawave.com does not accept returns for refunds or exchanges of the following items: Open Software, Downloadable Software Products (Digital Downloads), Software Product Keycards, Online Subscription Software, and items manufactured by LG, Gigabyte, and Fortinet.
Schedule and Time
aaawave.com offers a 30 day return/exchange policy, unless otherwise noted. The return/exchange policy begins on the customers purchase date. No returns or exchanges will be accepted after 30 days. All refunds will be made back to the customer's original form of payment within 7 business days of receiving the return merchandise. Return Merchandise Authorization number (RMA) are valid for only 10 business days. Packages must be received by us within 10 business days after the RMA number has been issued. Packages received after 10 business days will not be accepted and the warranty period will be considered voided and cancelled. RMA processing time is 5-7 business days once the package has been received.

Extra Charge
There is a restocking fee of 15% on all returns for refund. We charge this 15% restocking fee for all returns for refund to encourage customers to purchase products they intend to keep. We offer RMA replacement without any restocking fee to customers who have received a defective product. Shipping costs is non-refundable. Product exchanges can be accepted for defective items, the same exact item only. Product returns can be accepted for defective items only. Product returns for non-defective items will incur a 15% re-stocking fee, deducted from the refund amount.

Customer's Duty
aaawave.com does NOT offer "Advanced Replacement" for the exchange of defective merchandise. aaawave.com does NOT pay the return shipping costs for defective merchandise. We are NOT responsible for product defects, because we do not manufacture the products we sell. aaawave.com will pay for shipping "Back to the customer" for exchange of defective items. All returns and exchanges must be accompanied with a Return Merchandise Authorization number (RMA number). Please contact us for a RMA number prior to sending your package. aaawave.com will NOT accept packages without prior authorization and a RMA number. All packages being shipped to aaawave.com must have a valid tracking number that is with a major courier such as UPS, FEDEX, or USPS.
Other Details
Model:
AERO 15-X9-9RT4K5MP
CPU:
8th Generation Intel® Core™ i9-8950HK (2.9GHz-4.8GHz)
Display:
15.6" Thin Bezel UHD Adobe RGB 100% 3840x2160 IPS anti-glare display LCD
System Memory:
16GB DDR4 2666MHz(=16G*1), 2 Slots (Max 64GB)
HDD/SSD:
M.2 NVME PCIe 1TB SSD (2x M.2 SSD Slots, Type 2280, Supports 1x NVMe PCIe & SATA / 1x NVMe PCIe)
Chipset:
Mobile Intel® HM370 Express Chipset
Video Graphics:
NVIDIA® GeForce® RTX 2070 GDDR6 8GB, Supports NVIDIA® Optimus™ Technology
Keyboard Type:
Gigabyte Fusion Per Key RGB Keyboard
Battery:
Li Polymer 94.24Wh
Dimensions:
14.0(W) x 9.8(D) x 0.74(H) inch
Other Details
Model:
AERO 15-X9-9RT4K5MP
CPU:
8th Generation Intel® Core™ i9-8950HK (2.9GHz-4.8GHz)
Display:
15.6" Thin Bezel UHD Adobe RGB 100% 3840x2160 IPS anti-glare display LCD
System Memory:
16GB DDR4 2666MHz(=16G*1), 2 Slots (Max 64GB)
HDD/SSD:
M.2 NVME PCIe 1TB SSD (2x M.2 SSD Slots, Type 2280, Supports 1x NVMe PCIe & SATA / 1x NVMe PCIe)
Chipset:
Mobile Intel® HM370 Express Chipset
Video Graphics:
NVIDIA® GeForce® RTX 2070 GDDR6 8GB, Supports NVIDIA® Optimus™ Technology
Keyboard Type:
Gigabyte Fusion Per Key RGB Keyboard
Battery:
Li Polymer 94.24Wh
Dimensions:
14.0(W) x 9.8(D) x 0.74(H) inch