EOL - EZVIZ Mini 360 Plus 16GB SD included 1080p HD Indoor Home Security Camera
show / hide sidebar
EOL - EZVIZ Mini 360 Plus 16GB SD included 1080p HD Indoor Home Security Camera
Product Description
USE CODE "EZVIZ10" for $10 discount
Valid until 9/3/19
Features :
1920 x 1080 resolution video at up to 15 fps

IR cut filter and IR LED for night vision up to 33'

92 degree lens to monitor indoor areas

Privacy shield lens cover for true privacy

Auto-tracking function automatically tracks movement of subjects

Remotely control the 0 to 340 degree pan and -10 to 80 degree tilt for full room coverage

Built-in microphone and speaker for two-way audio communication

3D Digital Noise Reduction (3D-DNR) and Digital Wide Dynamic Range (DWDR)

H.264 compression for high-quality recording and playback

EzViz app for remote viewing and customization

Mini 360 Plus Home Security Camera
Full HD video recording. Full-Room Coverage. Wi-Fi Connection for Easy Setup.
Featuring Full HD resolution, night vision up to 33 feet, and 92° viewing angle with pan and tilt capability, the Mini 360 Plus camera from EZVIZ allows you to keep watchful eyes on your home day and night, with virtually full room coverage. Built-in speaker and microphone for two-way audio let you listen and respond to your kids, or even the pets. With Wi-Fi built in, the Mini 360 Plus is easy to install and can be accessed remotely from your phone or tablet. So you can enjoy complete peace of mind whether in the next room or on the other side of the world.
Just Ask
Mini 360 PLUS can now be controlled by Alexa through Echo Show. Simply ask her to show you the baby's room, the backyard, or anywhere you have an EZVIZ Wi-Fi camera.

Clearer, Sharper Video
All glass lenses. High-quality sensors. Amazing image quality. The Mini 360 Plus delivers clear high-definition 1080p video, rich colors, and sharp details.
See the Whole Room
The beauty of this incredible HD pan and tilt camera is that you can place it where you want and still see the whole room. All you have to do is take out your phone and press a button for a better view.

Privacy Mask
Sometimes you want a little alone time. Don't worry. We've got you covered. With just a tap, the lens rolls up for complete privacy.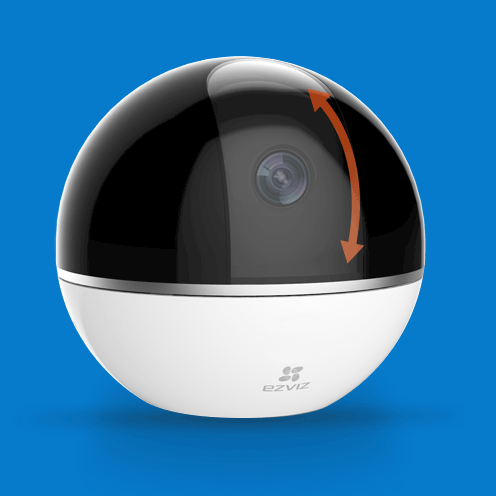 Pan and Tilt
The Mini 360 Plus already covers quite a bit of any room. It has a 92° viewing angle, after all. But with pan and tilt, you can see everything in the room. Just pull out your phone and use the EZVIZ app.

Auto Motion Tracking
The Mini 360 Plus detects movement and automatically pans left to right, keeping the moving subject inside its field of vision. Works best when camera is placed in the far ends of the room.
Night Vision
What good is a camera that only works during the day? The Mini 360 Plus delivers incredible night vision range of up to 33 feet when it's dark — large enough to cover just about any room.
Two-Way Talk
For those times when you're away from home and the dog is digging through the trash, there's two-way talk. Just press the button on the EZVIZ app and let the camera's built-in speaker and mic help you do the rest.
View from Multiple Devices
Control and view the Mini 360 Plus from your smart phone or tablet using the EZVIZ app. Get it on Google Play for Android 4.0+. Download on the App Store for iOS7.0+ (iPhone, iPad).
Returns Policy
All products sold by aaawave.com are brand new and carry the manufacturer's full warranty. All products advertised as BULK or OEM are brand new and carry the manufacturer's full warranty.
*Note: "BULK" and "OEM" items do not come in a retail type of packaging, do not include hardware, accessories, cables,software, or literature. Unless otherwise noted.
All products are shipped to the customer the exact same way that we receive them from the manufacturer. We are NOT responsible for physical damage or misuse of the product, damage or misuse of the product will automatically void the manufacturer warranty.
*Note: aaawave.com does not accept returns for refunds or exchanges of the following items: Open Software, Downloadable Software Products (Digital Downloads), Software Product Keycards, Online Subscription Software, and items manufactured by LG, Gigabyte, and Fortinet.
Schedule and Time
aaawave.com offers a 30 day return/exchange policy, unless otherwise noted. The return/exchange policy begins on the customers purchase date. No returns or exchanges will be accepted after 30 days. All refunds will be made back to the customer's original form of payment within 7 business days of receiving the return merchandise. Return Merchandise Authorization number (RMA) are valid for only 10 business days. Packages must be received by us within 10 business days after the RMA number has been issued. Packages received after 10 business days will not be accepted and the warranty period will be considered voided and cancelled. RMA processing time is 5-7 business days once the package has been received.

Extra Charge
There is a restocking fee of 15% on all returns for refund. We charge this 15% restocking fee for all returns for refund to encourage customers to purchase products they intend to keep. We offer RMA replacement without any restocking fee to customers who have received a defective product. Shipping costs is non-refundable. Product exchanges can be accepted for defective items, the same exact item only. Product returns can be accepted for defective items only. Product returns for non-defective items will incur a 15% re-stocking fee, deducted from the refund amount.

Customer's Duty
aaawave.com does NOT offer "Advanced Replacement" for the exchange of defective merchandise. aaawave.com does NOT pay the return shipping costs for defective merchandise. We are NOT responsible for product defects, because we do not manufacture the products we sell. aaawave.com will pay for shipping "Back to the customer" for exchange of defective items. All returns and exchanges must be accompanied with a Return Merchandise Authorization number (RMA number). Please contact us for a RMA number prior to sending your package. aaawave.com will NOT accept packages without prior authorization and a RMA number. All packages being shipped to aaawave.com must have a valid tracking number that is with a major courier such as UPS, FEDEX, or USPS.
Other Details
Bundled Camera Number:
1 Camera
Wireless Standard:
Wi-Fi IEEE 802.11b/g/n
Ports:
RJ45 10/100 Mbps self-adaptive Ethernet
Sensor:
1/3" progressive scan CMOS sensor
HD Resolution:
1080P or Higher
MAX Resolution:
1920 x 1080
Frame Rate:
1920 x 1080 at 15 fps, 1280 x 720 at 30 fps (adaptive)
Lens Type:
Focal Length: 4mm / Lens Mount: M12
Audio:
Built-in microphone and speaker
Other Details
Bundled Camera Number:
1 Camera
Wireless Standard:
Wi-Fi IEEE 802.11b/g/n
Ports:
RJ45 10/100 Mbps self-adaptive Ethernet
Sensor:
1/3" progressive scan CMOS sensor
HD Resolution:
1080P or Higher
MAX Resolution:
1920 x 1080
Frame Rate:
1920 x 1080 at 15 fps, 1280 x 720 at 30 fps (adaptive)
Lens Type:
Focal Length: 4mm / Lens Mount: M12
Audio:
Built-in microphone and speaker