Asustor AS1002T v2, 2-Bay NAS (Diskless), Marvell Armada 1.6 GHz Dual-Core, Personal Cloud NAS
show / hide sidebar
Asustor AS1002T v2, 2-Bay NAS (Diskless), Marvell Armada 1.6 GHz Dual-Core, Personal Cloud NAS
Product Description
Supreme performance in a compact package
AS10 series devices are equipped with dual-core processors, Gigabit Ethernet interfaces, and come with ASUSTOR's dedicated ADM operating system. They provide read speeds of over 110 MB/s and write speeds of over 96 MB/s, redefining the price to performance ratio of an entry level NAS.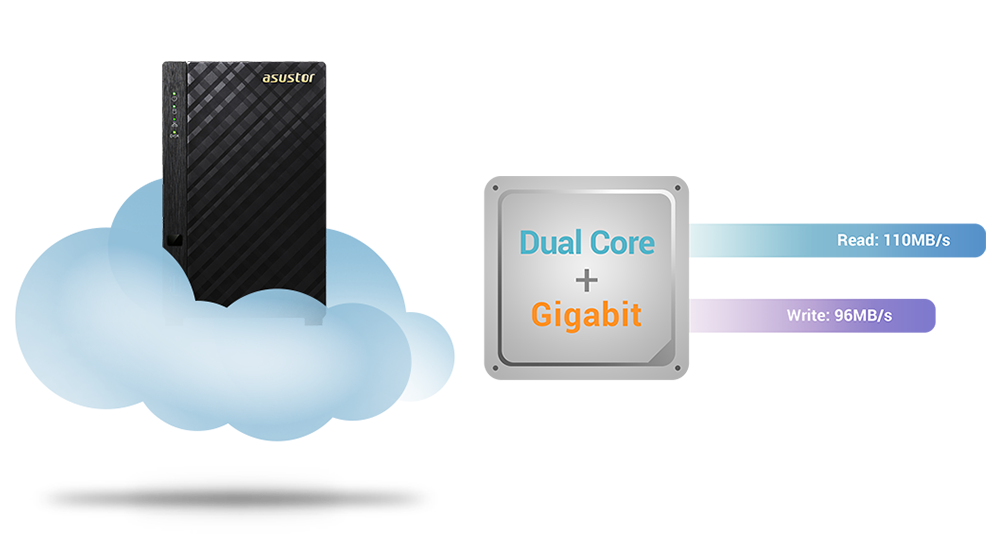 Add modern flair to your favorite space
The AS10 series devices redefine the aesthetics of a NAS. The stylish diamond-plate finished cover makes it an elegant addition to any space, no matter if it is a family room, living room or office.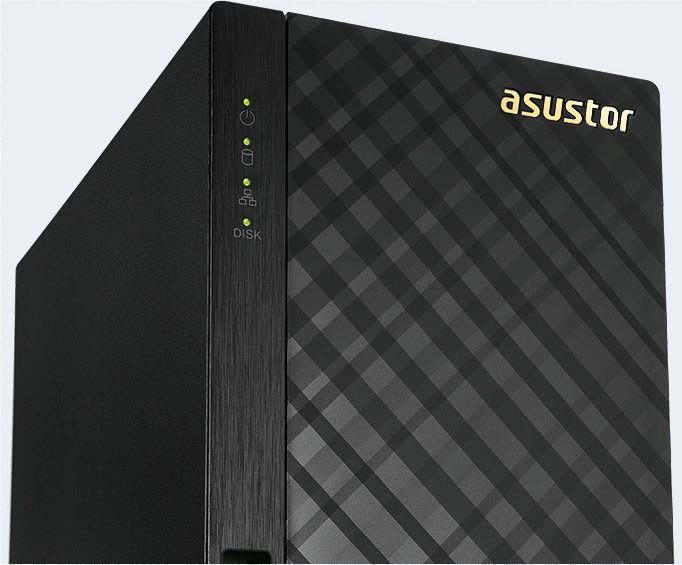 Toolless installation
The AS10 series' sliding outer cover design allows it to be conveniently removed when needed. The inner hard disk rails and outer cover all use hand screws allowing for the simple installation of hard disks without any extra tools.

Hardware encryption engine
Protecting your data is ASUSTOR's top priority. The AS10 series devices feature built-in encryption engines, allowing data to be completely protected from the moment it is first stored on the NAS. This means that you never have to worry about your confidential data falling into the wrong hands even if your hard disks become lost or stolen. The built-in hardware encryption engine also features read speeds of over 39 MB/s and write speeds of over 31 MB/s for encrypted data providing an optimal combination of file security and system performance.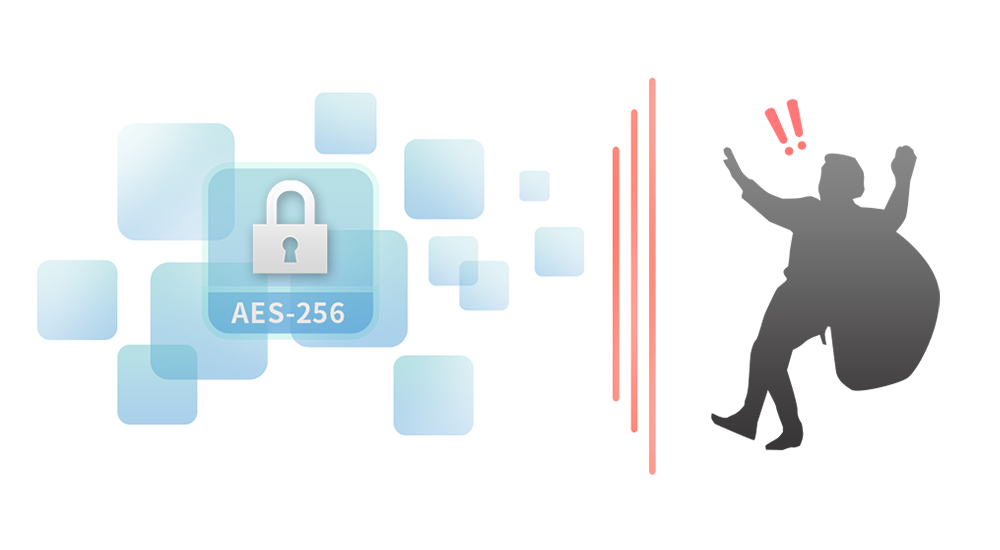 Ultra-quiet operation
The AS10 series devices produce only 19 decibels of noise during system standby, equivalent to the almost inaudible sound of a pin drop. During system operation, only 32 decibels of noise is produced, equivalent to the hushed tones of a quiet library, allowing the AS10 series devices to seamlessly and comfortably integrate into any living environment.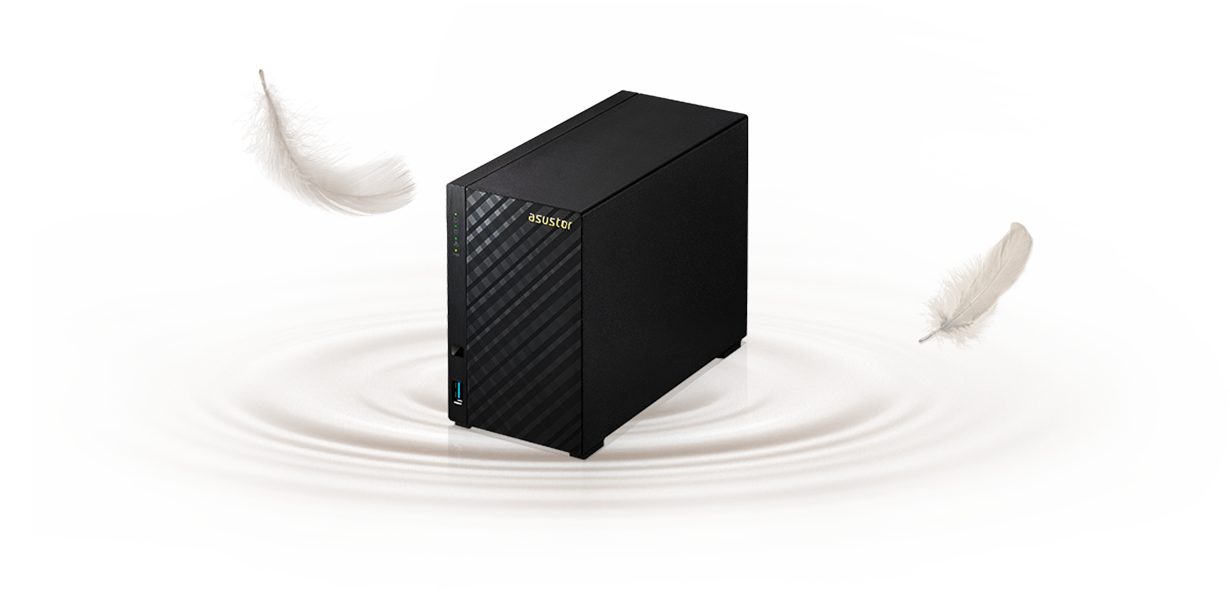 Ideal home multimedia server
The AS10 series' built-in CPU floating-point unit is able to quickly process large amounts of photo thumbnails, allowing you to instantly transfer and browse photos at any time. The rich variety of multimedia server applications are able to smoothly stream high definition multimedia entertainment to devices such as UPnP/DLNA players, Web browsers on computers, tablets and smartphones.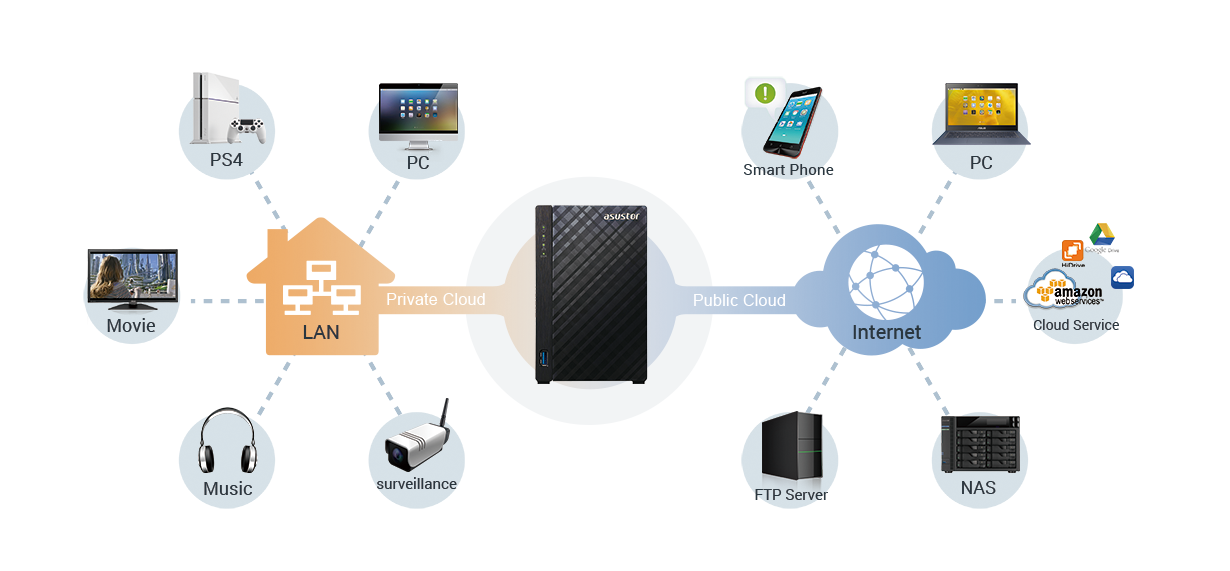 Save power to save money
ASUSTOR NAS products are designed and developed around ecologically friendly concepts. When in use, our devices consume far less power than the average computer or server. Furthermore, our advanced power control features allow you to more efficiently manage your NAS device and hard drives. This lowers your electric bill and prolongs the lifespan of your hard drives all at the same time. While in disk hibernation, the AS1002T consumes only 6.6 W of power. Under normal operating conditions it still only consumes 13.2 W of power.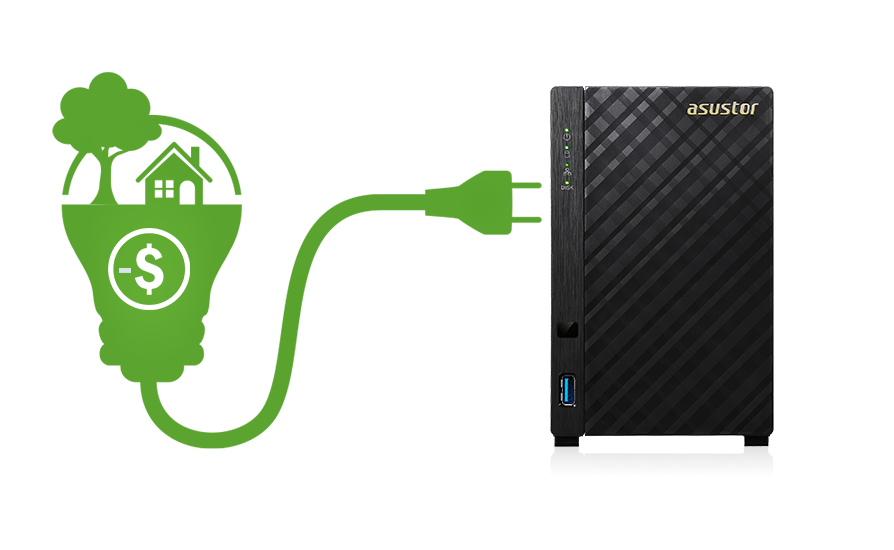 Returns Policy
All products sold by aaawave.com are brand new and carry the manufacturer's full warranty. All products advertised as BULK or OEM are brand new and carry the manufacturer's full warranty.
*Note: "BULK" and "OEM" items do not come in a retail type of packaging, do not include hardware, accessories, cables,software, or literature. Unless otherwise noted.
All products are shipped to the customer the exact same way that we receive them from the manufacturer. We are NOT responsible for physical damage or misuse of the product, damage or misuse of the product will automatically void the manufacturer warranty.
* Note: aaawave.com does not accept returns for refunds or exchanges of the following items: Product listings that state "Limited Supply, All sales are final". Open Software and Software Product Keycards. The sales of all the items aforementioned are considered final.
Schedule and Time
aaawave.com offers a 30 day return/exchange policy, unless otherwise noted. The return/exchange policy begins on the customers purchase date. No returns or exchanges will be accepted after 30 days. All refunds will be made back to the customer's original form of payment within 7 business days of receiving the return merchandise. Return Merchandise Authorization number (RMA) are valid for only 10 business days. Packages must be received by us within 10 business days after the RMA number has been issued. Packages received after 10 business days will not be accepted and the warranty period will be considered voided and cancelled. RMA processing time is 5-7 business days once the package has been received.

Extra Charge
There is a restocking fee of 15% on all returns for refund. We charge this 15% restocking fee for all returns for refund to encourage customers to purchase products they intend to keep. We offer RMA replacement without any restocking fee to customers who have received a defective product. Shipping costs is non-refundable. Product exchanges can be accepted for defective items, the same exact item only. Product returns can be accepted for defective items only. Product returns for non-defective items will incur a 15% re-stocking fee, deducted from the refund amount.

Customer's Duty
aaawave.com does NOT offer "Advanced Replacement" for the exchange of defective merchandise. aaawave.com does NOT pay the return shipping costs for defective merchandise. We are NOT responsible for product defects, because we do not manufacture the products we sell. aaawave.com will pay for shipping "Back to the customer" for exchange of defective items. All returns and exchanges must be accompanied with a Return Merchandise Authorization number (RMA number). Please contact us for a RMA number prior to sending your package. aaawave.com will NOT accept packages without prior authorization and a RMA number. All packages being shipped to aaawave.com must have a valid tracking number that is with a major courier such as UPS, FEDEX, or USPS.