ASUS ROG MAXIMUS VIII HERO/Whetstone LGA1151 DDR4 DP HDMI Z170 ATX with gaming mousepad Motherboards MAXIMUS VIII HERO/WHETSTONE
show / hide sidebar
Brands
Current Top Sellers
Top Sellers
ASUS ROG MAXIMUS VIII HERO/Whetstone LGA1151 DDR4 DP HDMI Z170 ATX with gaming mousepad Motherboards MAXIMUS VIII HERO/WHETSTONE
Product Description
The ASUS ROG MAXIMUS VIII HERO is the top-of-the-range model designed and optimized for hardcore gamers seeking the best in everything from their powerhouse: speed, quality, and ease of use. Based on the Intel Z170 chipset, this model supports 6th generation Intel Core processor in LGA 1151 package, and comes with four DDR4 DIMMs and three PCIe x16 slots that support CrossFire/SLI configuration. Reinvented SupremeFX 2015 Audio sets new standards for onboard audio, and 5-way Optimization allows you to boost performance or tweak system with a simple click, no more complex settings. You'll also delight in the SATA Express, M.2 and USB 3.1 Type-C connection that take I/O transfer speed to the next level.
Best Gaming Audio
SupremeFX 2015
Champion-level audio.
ROG provides you with the very best gaming-audio inputs and outputs, with special shielded designs, and a collection of carefully selected professional-grade audio components, including an ESS ES9023P digital-to-analog converter (DAC) with Hyperstream technology, ultra-low-jitter clock, Nichicon capacitors, 2Vrms headphone amp, and Sonic SenseAmp that automatically detects and optimizes any headset (32-600 ohms) for purest sound quality. SupremeFX 2015 also features intuitive Sonic Studio II for you to apply and enjoy different audio effects for perfect entertainment, plus Perfect Noise noise-cancellation technology for team conversations with total clarity.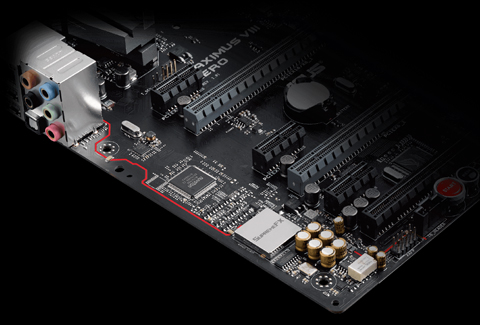 Sonic Studio II
Intuitive audio-tuning suite.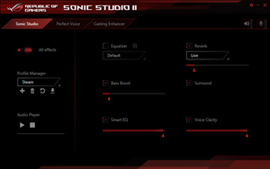 One-click virtual-surround function emulates 7.1 channels, even through a stereo (2.0-channel) headset. It offers five more superb audio controls, including Reverb, Bass Boost, Equalizer, Voice Clarity and Smart EQ — ensuring that everything you hear sounds just amazing.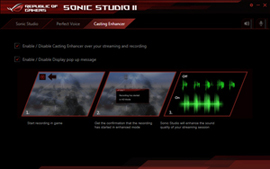 Casting Enhancer improves both streaming and recording audio quality, reducing noise artifacts and stabilizing overall voice volume. It also improves all the rich details and boost bass effect of in-game sounds and music playback.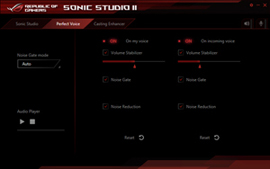 Perfect Voice reduces noise for both incoming and outgoing communications during in-game chat so every teammate is heard and no command is missed.
Best Gaming Performance
One Click Overclock and Cooling, Done!
Get performance, efficiency, digital power, fan control, and even networking and audio tuning tailored for you.
5-Way Optimization at your disposal. It takes just one click to tune complex settings — for instant, highly-controllable performance boosts! Theexclusive technology dynamically optimizes essential aspects of your system based on real-time use, so you get superb CPU performance, everyday energy savings, ultra-stable digital power, cool and quiet fans, and even networking and audio settings that are tailored for the apps that you are using. In short, 5-Way Optimization ensures that your PC is perfect for gaming, entertainment, productivity or just about anything else!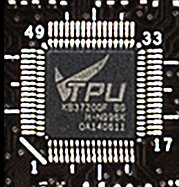 TPU
Unleash your PC's full performance with the ASUS AI Suite 3 utility! The TurboV Processing Unit (TPU) offers precise voltage control and advanced monitoring for the CPU and the graphics card. This gives you the freedom to adjust CPU frequencies and ratios for optimized performance and the ability to unlock the potential from your graphics card.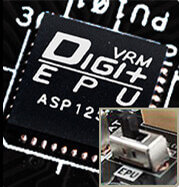 EPU
With the Energy Processing Unit (EPU) you'll enjoy real-time, system-wide power savings. EPU detects and adjusts power consumption according to the PC's needs — automatically. It can also reduce CPU wattage to a set level and deliver even more savings with Away Mode. This creates an extreme energy-saving scenario by shutting down unused extra I/O controllers and reduces the graphics cards' power level while you're away, so the PC consumes only the energy it needs — and not a drop more!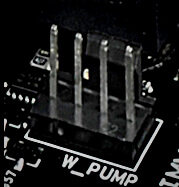 Fan Xpert 3
Advanced fan and water-pump controls for ultimate cooling and quietness with onboard thermal sensors and hardware-level 4-pin PWM/3-pin DC mode detection, Fan Xpert 3 makes sure every fan achieves the best balance of cooling performance and low noise!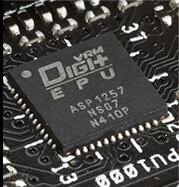 DIGI+ Power Control
Power control is one of the most essential motherboard designs. Intelligent CPU-power-draw detection with ASUS DIGI+ Power Control is an innovative, industry-leading technology that fully complies with Intel IMVP8 specifications, increasing overclocking potential, enhancing system stability, and improving power efficiency with superior flexibility and accurate control.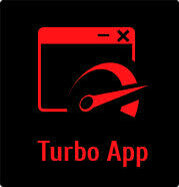 Turbo App
Whether you're a hardcore gamer or a business professional, you'll feel the benefit of the ASUS-exclusive Turbo App every day. Its intuitive tuning panel boosts a range of hardware, CPU-overclocking, fan-tuning, network data prioritization and audio optimization settings — all with automated ease. And now Turbo App is even more powerful than before, giving you the ability to automatically apply profiles previously set in Sonic Studio II and KeyBot II, so setup couldn't be simpler!
OC Design-ASUS PRO Clock Technology
A dedicated base-clock (BCLK) generator designed for 6th-generation Intel processors allows overclocked base clock frequencies up to 400MHz*. This custom solution works in tandem with the ASUS Turbo Processor Unit (TPU), to enhance voltage and base-clock overclocking control — granting an exciting new way to boost performance to extreme heights.
Advantages of PRO Clock
Less boot up time
Lower jitter under extreme conditions.
More stable under heavy overclocking.
* PRO Clock range up to 650 MHz is available, BCLK overclocking range may vary according to CPU capabilities.
DDR4 Overclocking Strength in Numbers
ASUS 2nd generation T-Topology allows DDR4 memory overclocking to reach new heights: over DDR4-3733 MHz with all memory slots populated. Featuring a customized trace layout for reduced crosstalk and coupling noise, ASUS 2nd generation T-Topology ensures time-aligned signal transfer for improved memory stability and compatibility.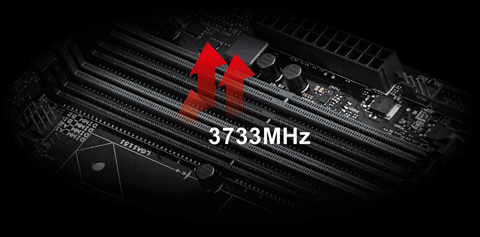 Media-Acclaimed UEFI BIOS
The smoothest, slickest mouse-controlled graphical BIOS has been improved to make it even more appealing. Whether you're a PC novice or a seasoned overclocker, the EZ and Advanced Modes help you find your way, quickly and easily.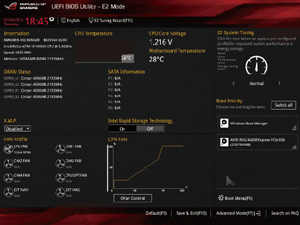 EZ mode
Intuitive graphical fan control - Fine-tune individual fans simply by dragging a curve with the mouse
EZ XMP - Improve your DRAM performance with a click
SATA Information - View SATA port details for easy device recognition
Fast Clock Adjustment - Use mouse controls to change the time and date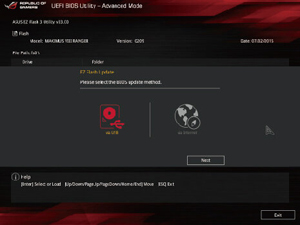 Advanced Mode
GPU POST - Automatically detect selected ASUS graphics cards to view detailed information
Secure Erase - Restore your SSDs to factory-fresh condition
Last Modified Log - Track the latest changes and save preferred profiles onto a USB drive
SATA Port Renaming - Rename SATA ports for easy identification
Extreme Engine Digi+
The finest power, digitally controlled.
ROG's revered digital power controller now delivers even-finer power, with Texas Instruments NexFET MOSFETs, MicroFine alloy chokes, Digi+ PWM controller and 10K black metallic capacitors — ensuring Extreme Engine Digi+ always delivers the smoothest core voltages!
RAMCache
Speed your game loads.
ROG's uniquely-intelligent technology efficiently caches the critical files on a particular storage device, so that your favorite games and apps launch at breakneck speeds - getting to work the moment it's activated. RAMCache turns milliseconds into microseconds to boost game-load times to stratospheric levels, and minimizes risk of data loss!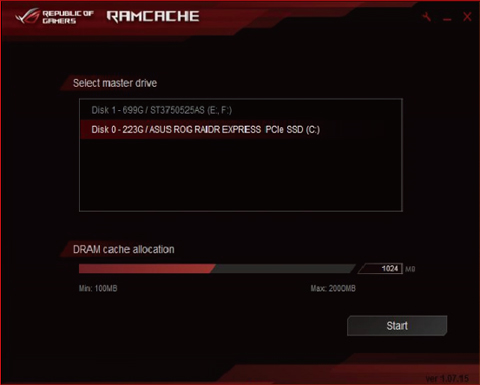 Best Gaming Networking
Intel Gigabite Ethernet
More throughput, less CPU usage and great gaming experiences.
ROG features the very latest Intel Ethernet (i-219V) for faster, smoother gaming — always. Intel's LAN has the serious double advantage of reducing CPU overhead and offering exceptionally high TCP and UDP throughput, so there's more power for your game and your gameplay.
LANGuard
Pumped-up throughput. Best surge protection.
Signal-coupling technology and premium surface-mounted components ensure a more reliable connection and better throughput. Additionally, electrostatically-guarded and surge-protected components (ESD Guards) allow for 1.9x-greater tolerance to static electricity and 2.5x-greater protection (up to 15kV) against surges!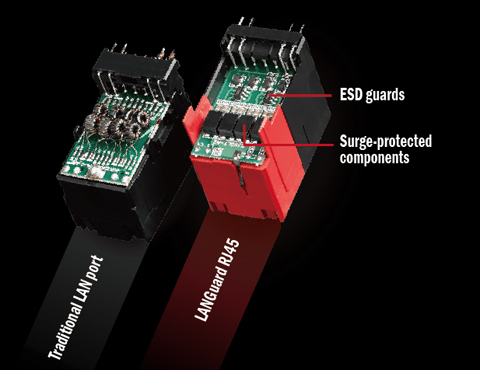 GameFirst III
Banish lag, play smooth.
Exclusive GameFirst III prioritizes game-related packets and allocates more bandwidth to games, eliminating laggy gameplay, streaming stutters and file-sharing slowdown — so you'll always be the frontrunner. Choose from Optimization, Game, Media Streaming or File Sharing presets and watch your network fly!
Best Gaming Protection
As a gamer you demand stability and durability, so ROG integrates long-lasting, premium components, plus exclusive smart DIY designs across the board — ensuring the best gaming experiences.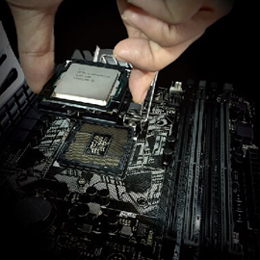 CPU installation tool
1 layer protection from socket-pin damage.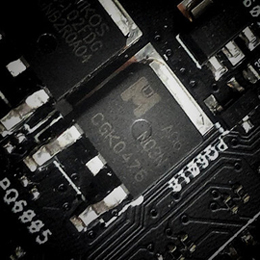 TrueVolt USB
2 dedicated USB power supplies rock-steady 5V to all USB ports, minimizing power fluctuations for minimal data loss.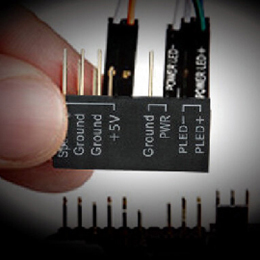 Q-connector
1 piece sorts all front-panel cables.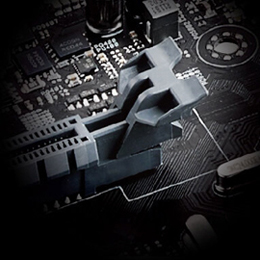 Q-Slot
1 clip to swap or secure your graphics card.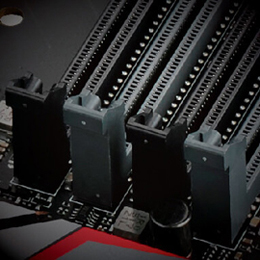 Q-DIMM
1 sided clips for super-simple, super-secure handling of memory modules.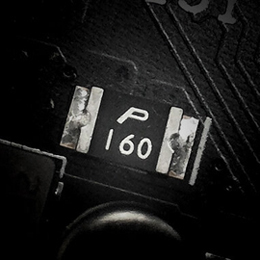 DRAM Over-current Protection
1 additional resettable fuse protects connection ports and DRAM against overcurrent and short-circuit damage.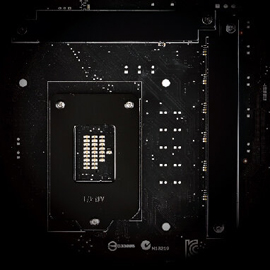 Backplates
2 backplates to provide additional cooling, protection and reinforcement.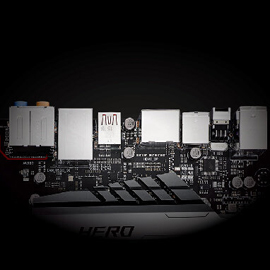 ESD Guards
2x greater electrostatic protection than standard. ESD Guards cover the PS2, USB, audio and LAN ports.
Stainless Steel Back I/O
3x longer lifespan than ordinary panels.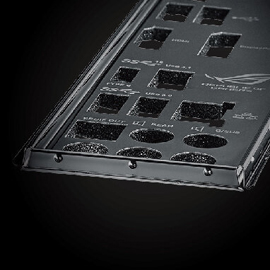 Black nickel-coated Q-Shield
0 pain! Protect your hands form nicks and cuts.
ROG Gives You More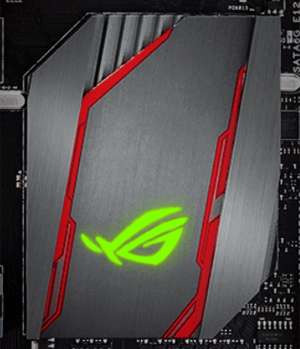 Lighting Control
Brighten up your build.
Customize your own favorite LED effect to cast a stunning multi-color glow across your build, change shades to indicate CPU temperature, or pulsate in time to the beat of your favorite tunes.
Static - Always on
Breathing - Fades in & out
Strobing - Flashes on & off
Color cycle - Fades between the colors of the rainbow
Music effect - Pulses to the beat of your music
Overwolf
Stay in the game.
The clever unobtrusive overlay that keeps you in the game, so you can browse, email, IM, stream or record while you play, and all dressed up in color-matched ROG skins to show you're part of an elite pack — soon to be available for download on Overwolf's app store!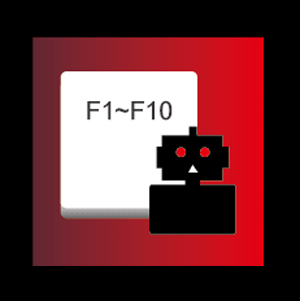 KeyBot II
The free keyboard upgrade – upgraded!
Free keyboard upgrade from an exclusive microprocessor and intuitive user interface. Record macros directly from the keyboard, switch profiles in moments, enable special functions with hotkey from F1-F10, start and even boost your PC from shutdown (S5 mode)!
Macro keys - Record sequences simply by typing from the keyboard.
Function keys - Assign convenient shortcuts and game-related functions.
Shortcut - Assign any application folder for easy launch.
Returns Policy
All products sold by aaawave.com are brand new and carry the manufacturer's full warranty. All products advertised as BULK or OEM are brand new and carry the manufacturer's full warranty.
*Note: "BULK" and "OEM" items do not come in a retail type of packaging, do not include hardware, accessories, cables,software, or literature. Unless otherwise noted.
All products are shipped to the customer the exact same way that we receive them from the manufacturer. We are NOT responsible for physical damage or misuse of the product, damage or misuse of the product will automatically void the manufacturer warranty.
*Note: aaawave.com does not accept returns for refunds or exchanges of the following items: Open Software, Downloadable Software Products (Digital Downloads), Software Product Keycards, Online Subscription Software, and items manufactured by LG, Gigabyte, and Fortinet.
Schedule and Time
aaawave.com offers a 30 day return/exchange policy, unless otherwise noted. The return/exchange policy begins on the customers purchase date. No returns or exchanges will be accepted after 30 days. All refunds will be made back to the customer's original form of payment within 7 business days of receiving the return merchandise. Return Merchandise Authorization number (RMA) are valid for only 10 business days. Packages must be received by us within 10 business days after the RMA number has been issued. Packages received after 10 business days will not be accepted and the warranty period will be considered voided and cancelled. RMA processing time is 5-7 business days once the package has been received.

Extra Charge
There is a restocking fee of 15% on all returns for refund. We charge this 15% restocking fee for all returns for refund to encourage customers to purchase products they intend to keep. We offer RMA replacement without any restocking fee to customers who have received a defective product. Shipping costs is non-refundable. Product exchanges can be accepted for defective items, the same exact item only. Product returns can be accepted for defective items only. Product returns for non-defective items will incur a 15% re-stocking fee, deducted from the refund amount.

Customer's Duty
aaawave.com does NOT offer "Advanced Replacement" for the exchange of defective merchandise. aaawave.com does NOT pay the return shipping costs for defective merchandise. We are NOT responsible for product defects, because we do not manufacture the products we sell. aaawave.com will pay for shipping "Back to the customer" for exchange of defective items. All returns and exchanges must be accompanied with a Return Merchandise Authorization number (RMA number). Please contact us for a RMA number prior to sending your package. aaawave.com will NOT accept packages without prior authorization and a RMA number. All packages being shipped to aaawave.com must have a valid tracking number that is with a major courier such as UPS, FEDEX, or USPS.