AMD FD8350FRHKHBX FX 8-Core Black Edition FX-8350 Processor with Wraith Cooler
show / hide sidebar
Product Description
Features :
32nm Vishera 125W

8MB L3 Cache

4 x 2MB L2 Cache

With AMD Wraith Cooler
New microarchitecture, new level of performance
Piledriver microarchitecture, a tuned-up Bulldozer, has finally reached the flagship AMD FX processors (the new FX series processors are codenamed Vishera) for improved performance and better energy-efficiency. Eight "Piledriver" cores ensure rich, crisp video and seamless multitasking. The AMD Turbo Core technology pushes your core frequencies to the most when you need it most. To top it off, like all other AMD's Black Edition processors, the new AMD FX eight-core Vishera processor is fully unlocked for fabulous overclocking* capability. Great performance is not the only trick AMD has up their sleeve. Vishera processors are at a reasonable price point.
The bundled processor is updated, named Wraith, giving you better cooling performance while reducing the noise to the level near threshold of human hearing. You'll get better experience from all your applications.
*AMD's product warranty does not cover damage caused by overclocking even when overclocking is enabled via AMD Overdrive software.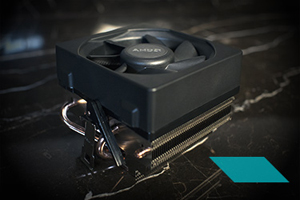 AMD FX 8350 Processor and Wraith Cooler
Maximum multithreading capacity and the highest clock rate in its class

Now paired with virtually silent top-of-the-line AMD Wraith Cooler

AMD's new Wraith Cooler generates less than one-tenth the noise of its predecessor, backlit illumination and an attractive fan shroud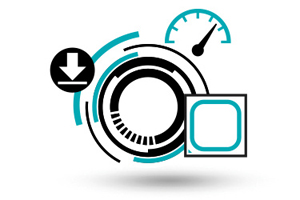 The Control You Want
Unlocked clock multiplier for a powerful overclocking advantage (AMD's product warranty does not cover damages caused by overclocking, even when overclocking is enabled via AMD hardware)

Highly configurable power and performance curve via AMD OverDrive software

Tailor your experience to your personal preference, whether it's performance, efficiency, or low noise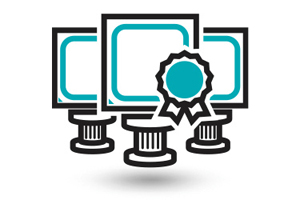 Reliability You Deserve
AMD processors power premium products and world-class operations from industry leaders like HP, Microsoft, Samsung Electronics, and Sony

The AMD FX processor is built from the company's 8th generation x86 CPU architecture based on over 40 years of silicon-crafting experience
New Instruction Capabilities
AVX - Advanced Vector Extensions increase parallelism for scientific and 3D apps using heavy floating point calculations

FMA4 and XOP – Floating-Point Vector Multiply-Accumulate and eXtended Operations improves throughput and performance on many integer and floating point vector functions

AES - Advanced Encryption Standard increases performance on encryption apps like TrueCrypt® and PCMark
AMD FX 8-Core Processors
The industry's first and only native 8-core desktop processor for unmatched multitasking and pure core performance with "Bulldozer" architecture.

New 32 nanometer die shrink designed to reduce leakage for improved efficiency, increased clock rate headroom and better thermals.
AMD Turbo CORE Technology
AMD FX Processors come equipped with AMD Turbo CORE Technology.2 AMD Turbo CORE Technology is a performance boosting technology that helps increase performance on the applications that need it the most.
AMD Balanced Smart Cache
Shared L3 cache ( up to 8MB)

Improved scheduling and pre-fetch capabilities

64-ways (16-ways/sub-cache)

Increased data queue sizes

Coherency for 8-cores
AMD Wide Floating Point Accelerator
Shared FP Scheduler

Dual 128-bit Floating point engines – capable of teaming together for 256-bit AVX instructions or operating separately with each core
HyperTransport Technology
One 16-bit link at up to 5600MT/s

Up to 8.0GB/s HyperTransport™ I/O bandwidth; Up to 16GB/s in HyperTransport Generation 3.0 mode

Up to 37GB/s total delivered processor-to-system bandwidth (HyperTransport bus + memory bus)
Benefit: Quick access times to system I/O for better performance.
Integrated DRAM Controller with AMD Memory Optimizer Technology
A high-bandwidth, low-latency integrated memory controller

Supports up to DDR3-1866

Supports new low voltage memories of 1.35V and 1.2V

Up to 29.9GB/s memory bandwidth for DDR3

New Pre-Fetcher improvements

Direct communications to each core in Dual-Core module (APIC registers in each core)
AMD Virtualization (AMD-V) Technology with IOMMU
Silicon feature-set enhancements designed to improve the performance, reliability and security of existing and future virtualization environments by allowing virtualized applications with direct and rapid access to their allocated memory.

IOMMU is an extension to AMD64 architecture to support address translation and access protection on DMA transfers

Security for User Level application and Virtual Machine guest operating system

Address translation and access control

Device isolation

Device assignment in virtualized systems

Security and trusted boot support

Unified interrupt management
Benefit: Helps virtualization software to run more securely and efficiently enabling a better experience when dealing with virtual systems
AMD PowerNow! AMD Technology (Cool'n'Quiet Technology)
Enhanced power management features which automatically and instantaneously adjusts performance states and features based on processor performance requirements

CC6 power state puts all cores in C6 into an even lower power state for quieter operation and reduced power requirements

Separate memory controller power control

IO-based c-state interface

Works automatically without the need for drivers or BIOS enablement.

Power can be switched on or off within a single clock cycle, saving energy with minimal impact to performance
Benefit: Helps users get more efficient performance by dynamically activating or turning off parts of the processor.
Returns Policy
All products sold by aaawave.com are brand new and carry the manufacturer's full warranty. All products advertised as BULK or OEM are brand new and carry the manufacturer's full warranty.
*Note: "BULK" and "OEM" items do not come in a retail type of packaging, do not include hardware, accessories, cables,software, or literature. Unless otherwise noted.
All products are shipped to the customer the exact same way that we receive them from the manufacturer. We are NOT responsible for physical damage or misuse of the product, damage or misuse of the product will automatically void the manufacturer warranty.
*Note: aaawave.com does not accept returns for refunds or exchanges of the following items: Open Software, Downloadable Software Products (Digital Downloads), Software Product Keycards, Online Subscription Software, and items manufactured by LG, Gigabyte, and Fortinet.
Schedule and Time
aaawave.com offers a 30 day return/exchange policy, unless otherwise noted. The return/exchange policy begins on the customers purchase date. No returns or exchanges will be accepted after 30 days. All refunds will be made back to the customer's original form of payment within 7 business days of receiving the return merchandise. Return Merchandise Authorization number (RMA) are valid for only 10 business days. Packages must be received by us within 10 business days after the RMA number has been issued. Packages received after 10 business days will not be accepted and the warranty period will be considered voided and cancelled. RMA processing time is 5-7 business days once the package has been received.

Extra Charge
There is a restocking fee of 15% on all returns for refund. We charge this 15% restocking fee for all returns for refund to encourage customers to purchase products they intend to keep. We offer RMA replacement without any restocking fee to customers who have received a defective product. Shipping costs is non-refundable. Product exchanges can be accepted for defective items, the same exact item only. Product returns can be accepted for defective items only. Product returns for non-defective items will incur a 15% re-stocking fee, deducted from the refund amount.

Customer's Duty
aaawave.com does NOT offer "Advanced Replacement" for the exchange of defective merchandise. aaawave.com does NOT pay the return shipping costs for defective merchandise. We are NOT responsible for product defects, because we do not manufacture the products we sell. aaawave.com will pay for shipping "Back to the customer" for exchange of defective items. All returns and exchanges must be accompanied with a Return Merchandise Authorization number (RMA number). Please contact us for a RMA number prior to sending your package. aaawave.com will NOT accept packages without prior authorization and a RMA number. All packages being shipped to aaawave.com must have a valid tracking number that is with a major courier such as UPS, FEDEX, or USPS.
Other Details
Processors Type:
Without Fan and Original Package(Used-Like New)!
Name:
FX-8350 Black Edition
CPU Socket Type:
Socket AM3+
Operating Frequency:
4.0 GHz
Max Turbo Frequency:
4.2 GHz
Virtualization Technology Support:
Yes
Thermal Design Power:
125W
Cooling Device:
Heatsink and fan included
Other Details
Processors Type:
Without Fan and Original Package(Used-Like New)!
Name:
FX-8350 Black Edition
CPU Socket Type:
Socket AM3+
Operating Frequency:
4.0 GHz
Max Turbo Frequency:
4.2 GHz
Virtualization Technology Support:
Yes
Thermal Design Power:
125W
Cooling Device:
Heatsink and fan included